About Us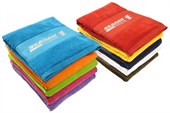 So you'd like to know a bit more about promotional beach towels? Good idea!
We are a premium supplier of only the best promotional beach towels in Australia. Our range is comprised of quality & affordable towels all with printing or embroidery options.
Based in Sydney Australia, we've been in the promotional products industry for over a decade and helping companies get their promotional beach towel orders sorted so that they've been able to have amazing corporate giveaways, tradeshows and marketing campaigns! There's no need to go anywhere else for your branded beach towel needs, we've got them covered. Head on over to our products page and get browsing!
The Promotional Beach Towels Team